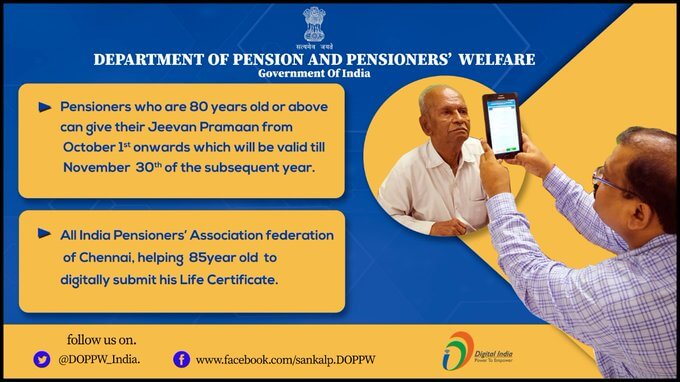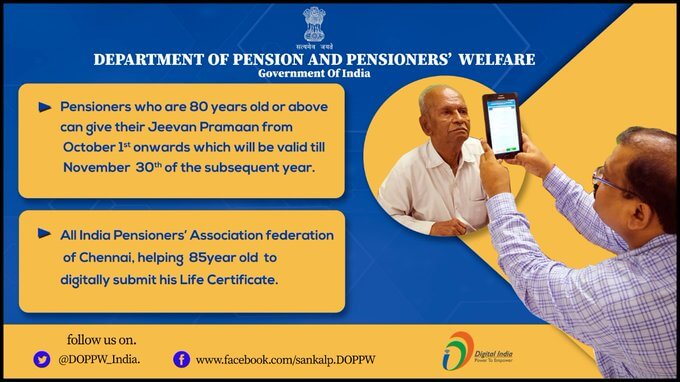 Submission of Annual Life Certificate: Department of Pension and Pensioners' Welfare O.M. dated 30.09.2022
No. 1(8)/2021-P&PW(H)-7468
Government of India
Ministry of Personnel, Public Grievances and Pensions
Department of Pension and Pensioners' Welfare
8th Floor, B-Wing, Janpath Bhawan
Janpath, New Delhi-1 10001
Dated the 30th September, 2022
OFFICE MEMORANDUM
Every Central Government pensioner has to submit Annual Life Certificate in the month of November for further continuation of pension. It has been observed that a large number of Central Government pensioners physically visit bank branches for this purpose.
2. As a measure to enable an additional exclusive window to very senior pensioners, this Department, vide its OM No. 1/20/2018-P&PW(E) dated 18.07.2019, has allowed the pensioners in the age group of 80 years and above, to submit Annual Life Certificate from 1st October onwards, instead of 1st November onwards, every year.
3. The different modes available to a pensioner for submission of Annual Life Certificate are once again summarized for Pensioners' awareness. An Annual Life Certificate can be submitted manually or digitally as per convenience of the pensioner by following modes: –

(adsbygoogle = window.adsbygoogle || []).push({});
4. All Pension Disbursing Authorities are requested to take note of this OM for compliance and give wide publicity of the same amongst pensioners.
5. This issues with the approval of the competent authority.
(Ashok Kumar Singh)
Under Secretary to the Govt. of India
Tel. No. 23310108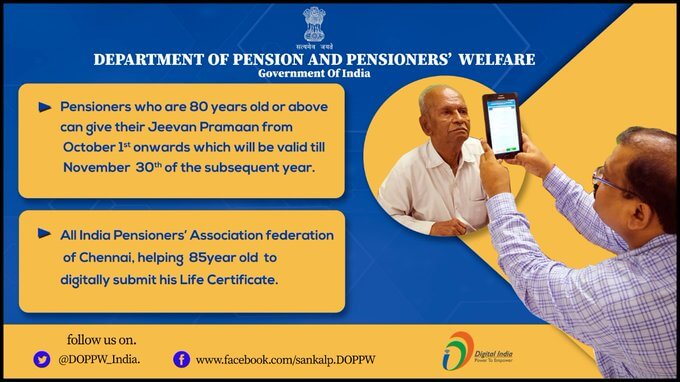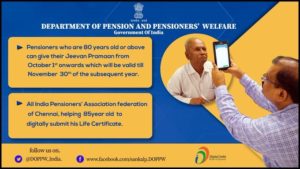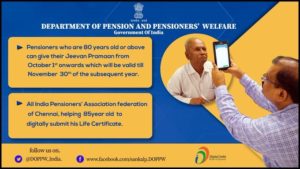 Annexure-I
Hindi Version: वार्षिक जीवन प्रमाणपत्र को प्रस्तुत करना – पेंशन और पेंशनभोगी कल्याण विभाग का कार्यालय ज्ञापन
Sir,
I am on a visit to Netherlands, Europe, visiting my daughter.
I am unable to submit my Digital Life Certificate in November 2022.
Can I submit the life certificate at my bank on 05th December 2022 as I am returning to India on that day.
Regards 
Yes you can submit your LIFE CERTIFICATE after you will be in India at that time you'll get all due arrears of Pension amount.
at age of 72 years what is last day for submitting online life certificate…
Last date is 30-11-2022.
My pension for the September 2022 not credited till date, however service record ie PPO ,Adhar, bankA/C ,mobile no & anyother reqd document already Submitted by SBI to concerned authority
Your email address will not be published. Required fields are marked *





document.getElementById( "ak_js_1" ).setAttribute( "value", ( new Date() ).getTime() );
This site uses Akismet to reduce spam. Learn how your comment data is processed.

Family pension – list of documents
Old CCS (Revised Pay) Rules 2nd, 3rd, 4th, 5th Central Pay Commission – CCS (Revised Pay) Rules
7th CPC Notification: Defence Officers Revised Pay Matrix for Army, Air-force & Navy Officers
Central Govt Employees – 7th Pay Commission – Staff News | Web Diary for Central Govt Employees, Defence Personnel, Railway Employees, Pensioner, Ex-servicemen etc.